That's (P)interesting… Fireplace Built-Ins
Pinterest can really get a guy (or girl) who's kinda' handy in some major trouble. Case in point… My fireplace built-ins.
While scrolling through Pinterest, my wife and I started getting the idea that we could maybe change our Family Room's fireplace wall into a wall full of built-ins. See, before, it was just a plain wall, about 15-17 feet wide, with the gas fireplace and mantel centered on the wall.
But Pinterest was showing us some pretty great-looking designs that other people had done. If you just search "fireplace built-ins" on Pinterest, you'll see what I mean.
Plus, I'm a little handy, so we started talking about, "Is this realistic? Can I do this myself? Will I ruin the house if I start"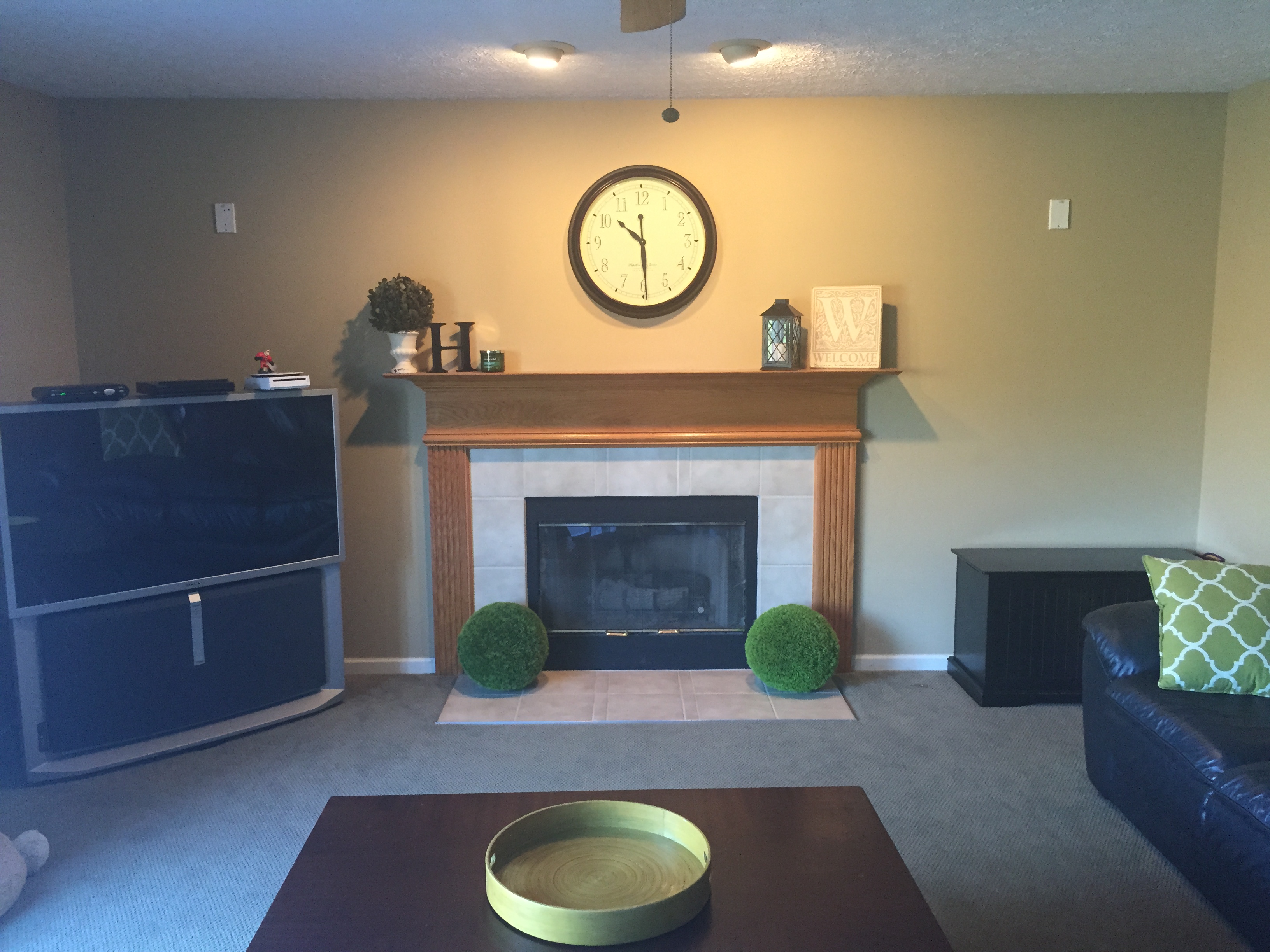 Measurements and Planning
First thing I needed to do was brainstorm how I wanted it to look. Most of the design ideas on Pinterest were white or cream colored built-in cabinetry with cabinet doors as the base and bookcase-style shelves above. Symmetrically, the built-ins were identical on each side.
So, I grabbed my tape measure and measured the distance from each side wall to the fireplace. I knew I was going to be tearing down the old mantel, so I measured beyond the edge of the mantel trim. Each side was not officially and equally symmetrical, but it was close. One side was like 62″ from wall to where the tile started (past the mantel trim) and the other side was like 64″.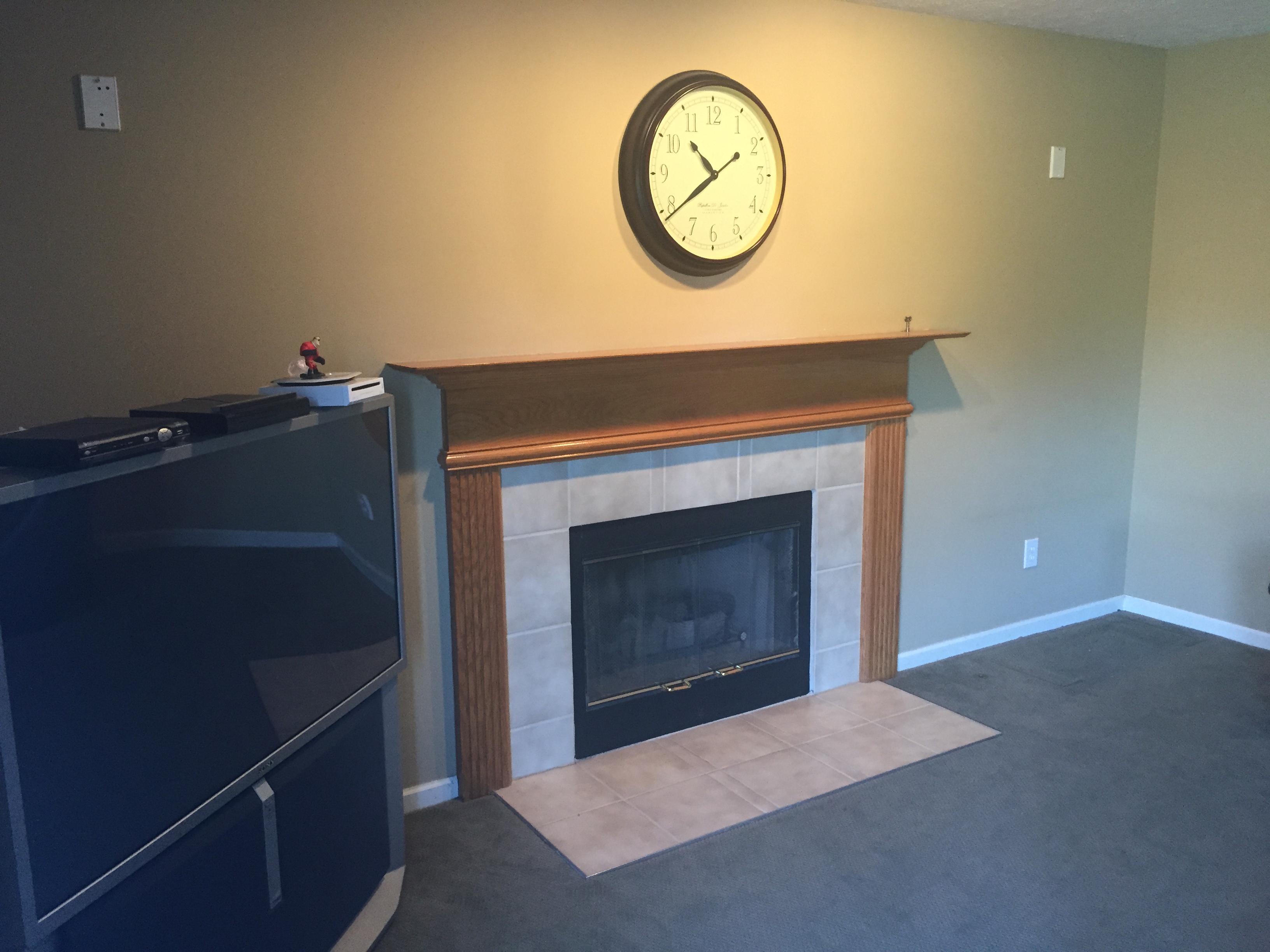 This told me I had two options…
I could build the base cabinets myself to fit exactly in the space on each side
I could buy prefabricated cabinetry and make it work
I opted for #2 because I wanted base cabinets with cabinet doors AND pull-out drawers. I figured the easiest way to do this would be to just buy prefabricated base cabinets at Home Depot. They're already built, they have doors and drawers, they're unfinished so I can paint them whatever color I want, and they're only slightly more expensive than they would be for me to have to try and recreate/build all of that myself. And I could add my own cabinet knobs and pulls once finished.
So, because of the measurements, I could be two 30″-wide base cabinets (34.5″ tall, so 30×34.5) for each side, meaning I would need four total cabinets.
Getting Started

I bought the 4 base cabinets and stored them in my garage (TIP: If you want, buy Home Depot gift cards from Giant Eagle to save on gas money through Giant Eagle's Fuel Perks program. If you're spending money, you might as well find ways to save a little in the process. And because of how much I spent, I didn't have to pay for gas for like 3+ fill-ups!).
Then, I used a pry bar, or in my case a long flat-head screwdriver, to gently pry the old fireplace mantel off the wall and gently eased it to the floor. I cleaned up the wall as best I could and took the old mantel outside.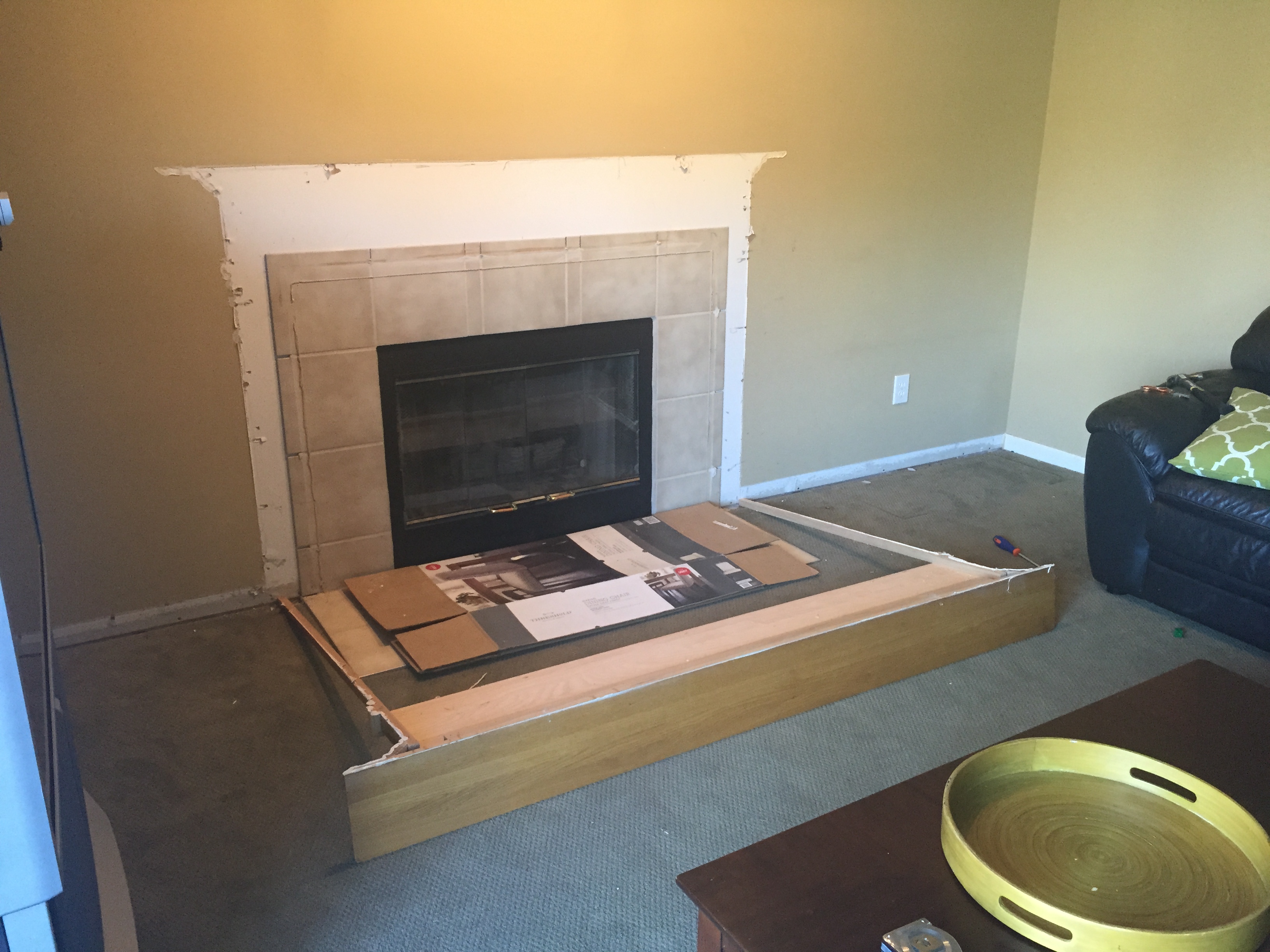 Next, I brought the 4 base cabinets in, placed 2 of them on each side of the fireplace and worked out the measurements. I won't get into that here. Measurements will be different for everyone. Just do what you need to make it work.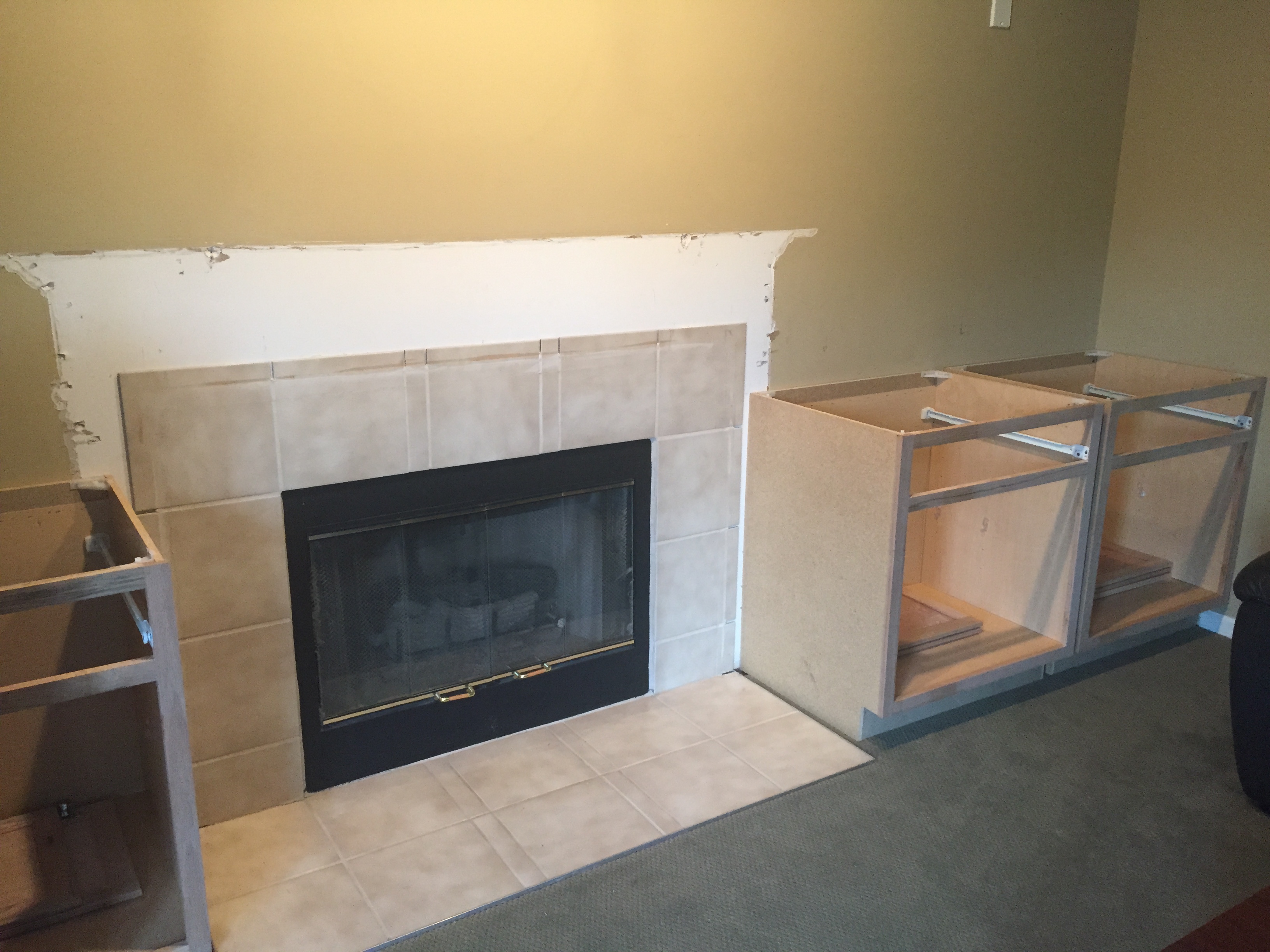 Then, once I had them in place, I secured them to the wall, and I used my Dremel to carve out the backing of the cabinets where the wall outlets were. I knew I wanted to have electrical access for TV, cable, Blu-ray, video games, lamps, chargers, etc.
Heading to the Hardware Store
Home Depot is literally .3 miles from my house, so Home Depot is usually my hardware store of choice when I need tools and materials. The other main reason I use a big box store is because they will cut ALL your wood for you, if you need them too. Take advantage of that offering.
Before I left to Home Depot, I measured the dimensions for the cabinet tops. The base cabinets didn't come with a top, so I measured what I needed and added like an extra inch on the front and fireplace side for a little overhang.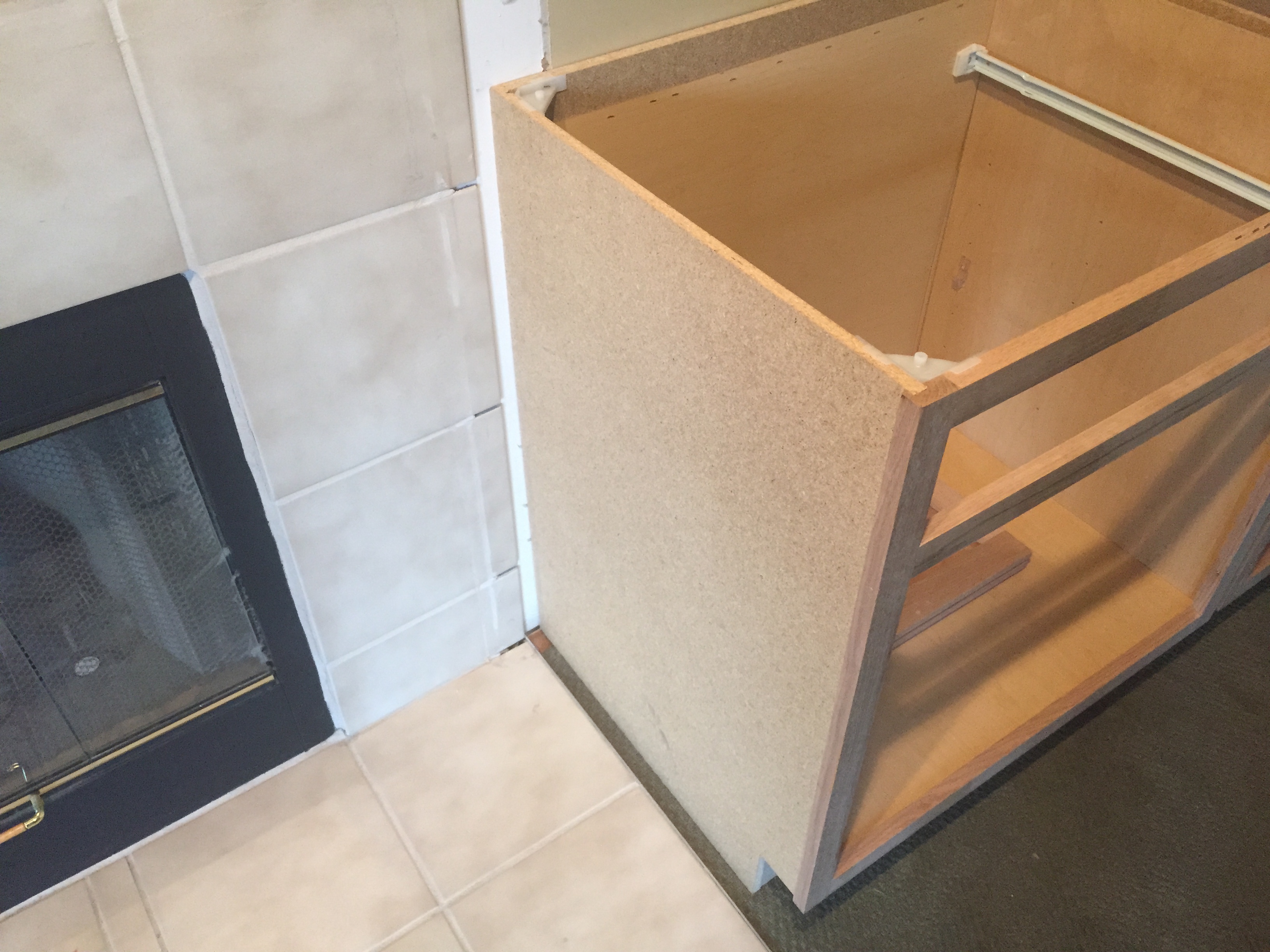 I went to Home Depot, had them cut those measured pieces from a large sheet of 3/4″ MDF. I took the MDF home, placed it on top and used my nail gun to attach it to the top. I also cut a circular hole in the top of the one on the left where I would run the electrical cords through. I also cut a hole on the right side top for the lamp cord. I did this hole later though because I didn't know where I wanted that hole or if I even was going to have a lamp.
Measuring & Cutting. Measuring & Cutting.
Your cabinets are going to be different than mine, so I'm going to stop going into as much detail. If you've gotten this far, which you totally can because it's been easy up to this point, you can do it! Just measure everything, brainstorm what should come next after each step, and have your hardware store cut your next pieces for you.
I measured what I would need in terms of height and depth for the bookcases. I put one piece of MDF running vertically flush up against the wall on each side. I was able to attach this to the wall on each side. I then ran a vertical piece on the side closest to the fireplace, leaving like an inch or so from the edge. Then, I ran a piece of MDF at the top, connecting the end vertical pieces and stabilizing them.
Next, I wanted a lapboard look behind the bookcases, so I bought wood paneling from Home Depot that was created with the plank-style look. I measured the sizes I needed first, went to Home Depot, and then had Home Depot cut it for me. I took it home and attached the panels to the back wall.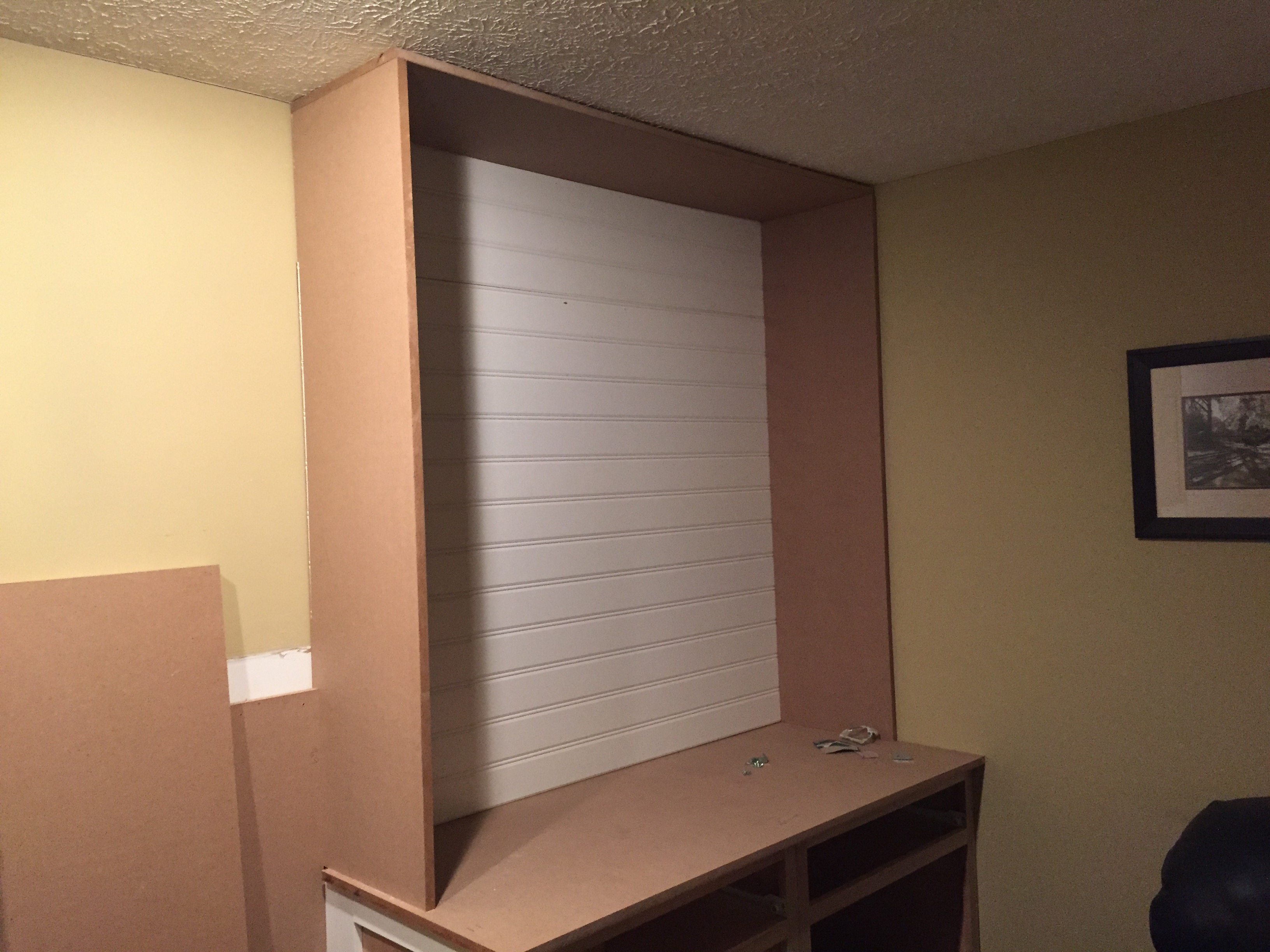 And then I ran 2 MDF pieces up the middle on each side, and I placed these pieces flush up against each other.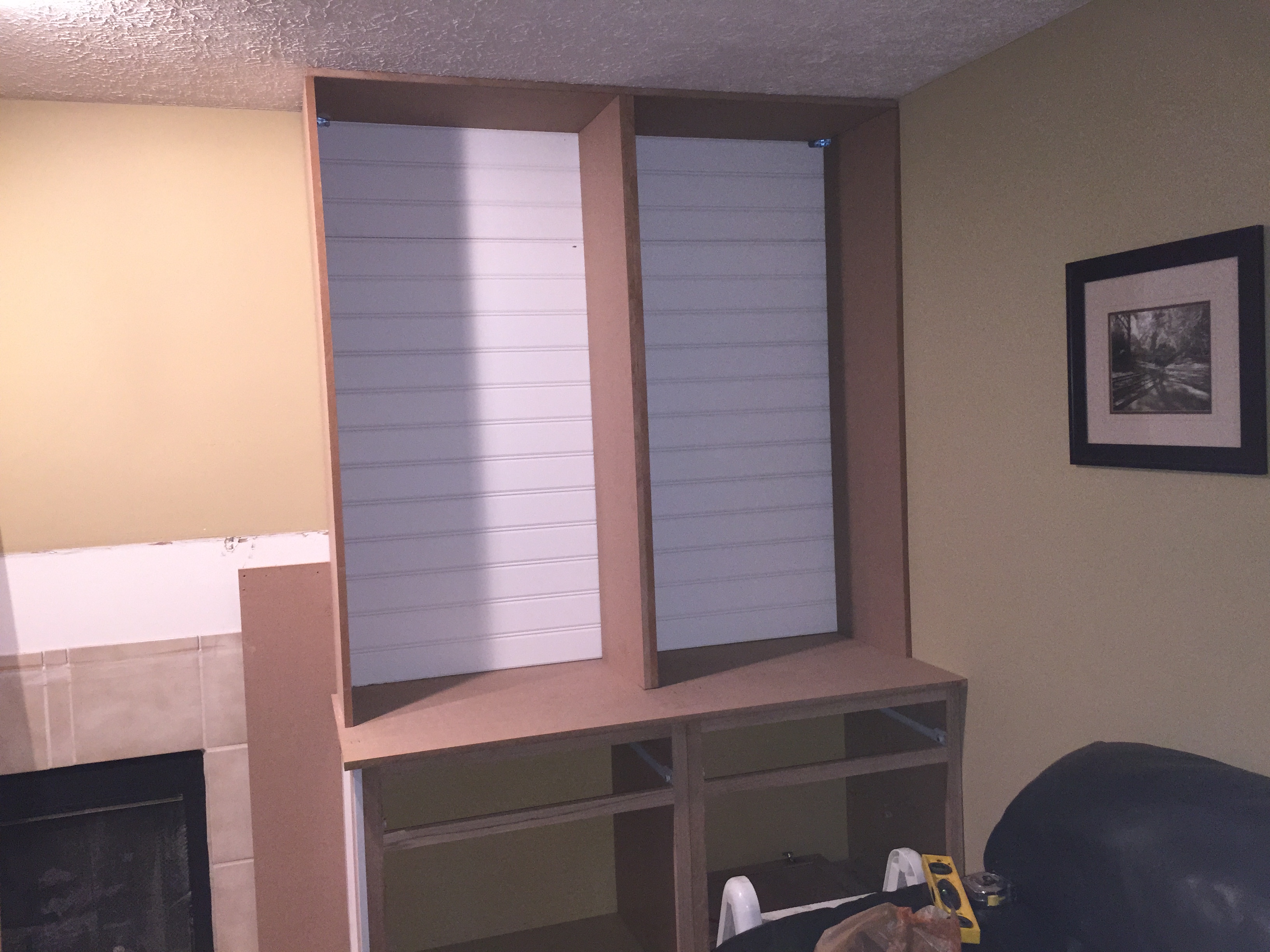 In my case, I knew I wanted my TV on the left built-in (instead of above the fireplace), so I left an opening perfectly sized for the TV. Again, you will need to plan yours according to your desire and measure accordingly.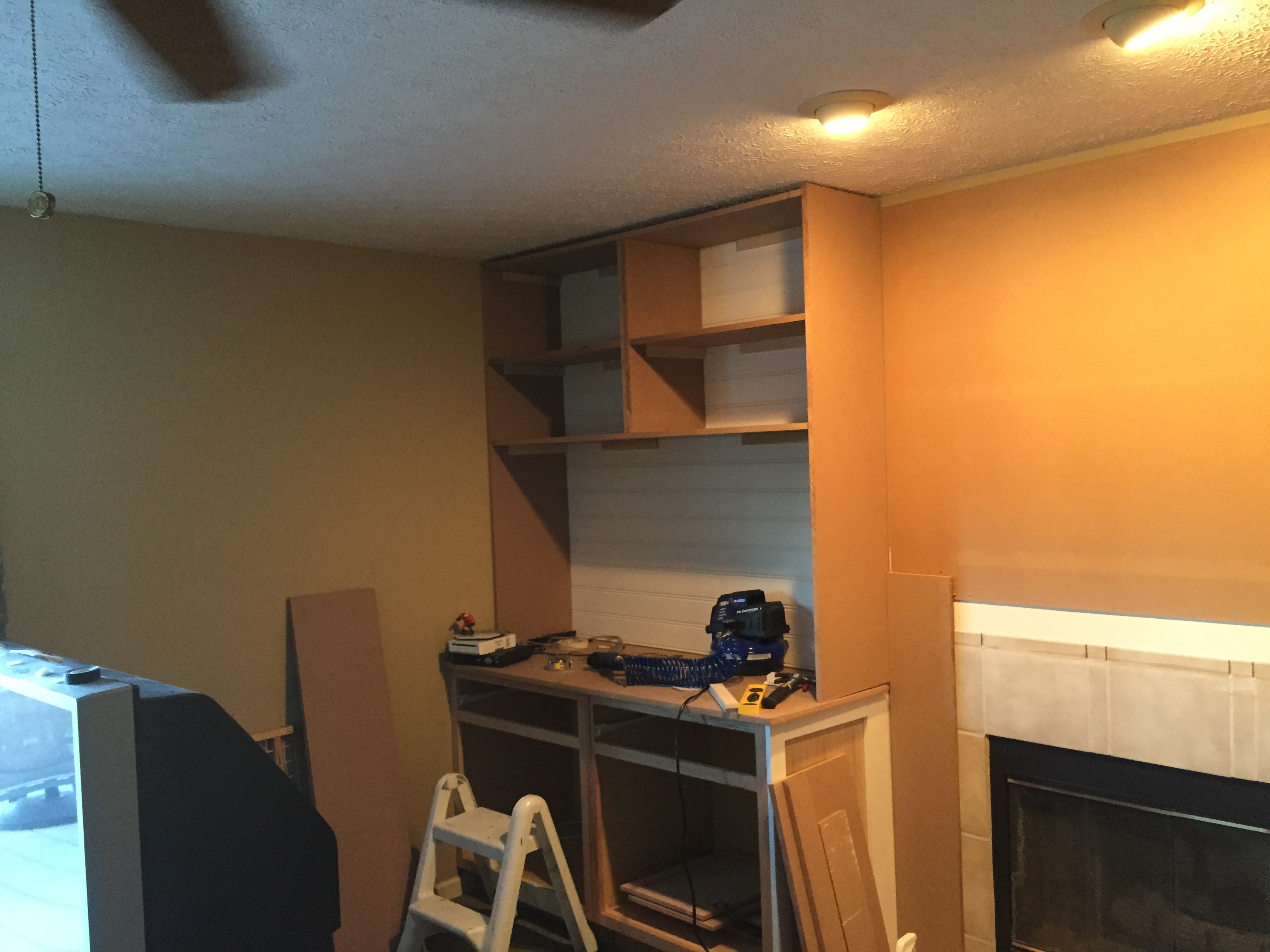 But once you have the veritcal pieces up, measure what you need for the shelves, and then go to the store and have more MDF cut for the shelves. I also bought some 1X2s which I cut into 12″ sections myself. These would serve as the supports for the shelves. You can figure out your own way it you want, but this worked for me.
NOTE: If you're worried about the stability of the vertical MDF pieces, you can (and probably should) buy some brackets to tie them all together. I bracketed the corners together and used "L" shaped brackets to attached them to the base cabinet top.
Mantel
I couldn't reuse my old mantel, but if you can, definitely do it. If you can't reuse yours though, you'll need to build your own. It can be intricate and feature an angled crown-molding look, like mine. Or it can just be a thin flat shelf. Or you could even do a rustic piece of weathered wood. Get some inspiration by looking at other people's mantel pictures.
Add Your Detail – Batten Board Style, Crown Molding, Base Molding and Cabinet Trim
What Pinterest really showed me, just by looking at the pictures, was that I could add some luxurious flair by adding a batten board look to the sides of the base cabinets and the new mantel wall. I used 1x3s for the most part. Again, keep measuring and decide what's best for you.
I also added crown molding to the top of the cabinets and ran it flush up with the ceiling. I won't tell you how to do crown molding here. Just google it. It's not the most simple of things, but again, you can do it if you've come this far.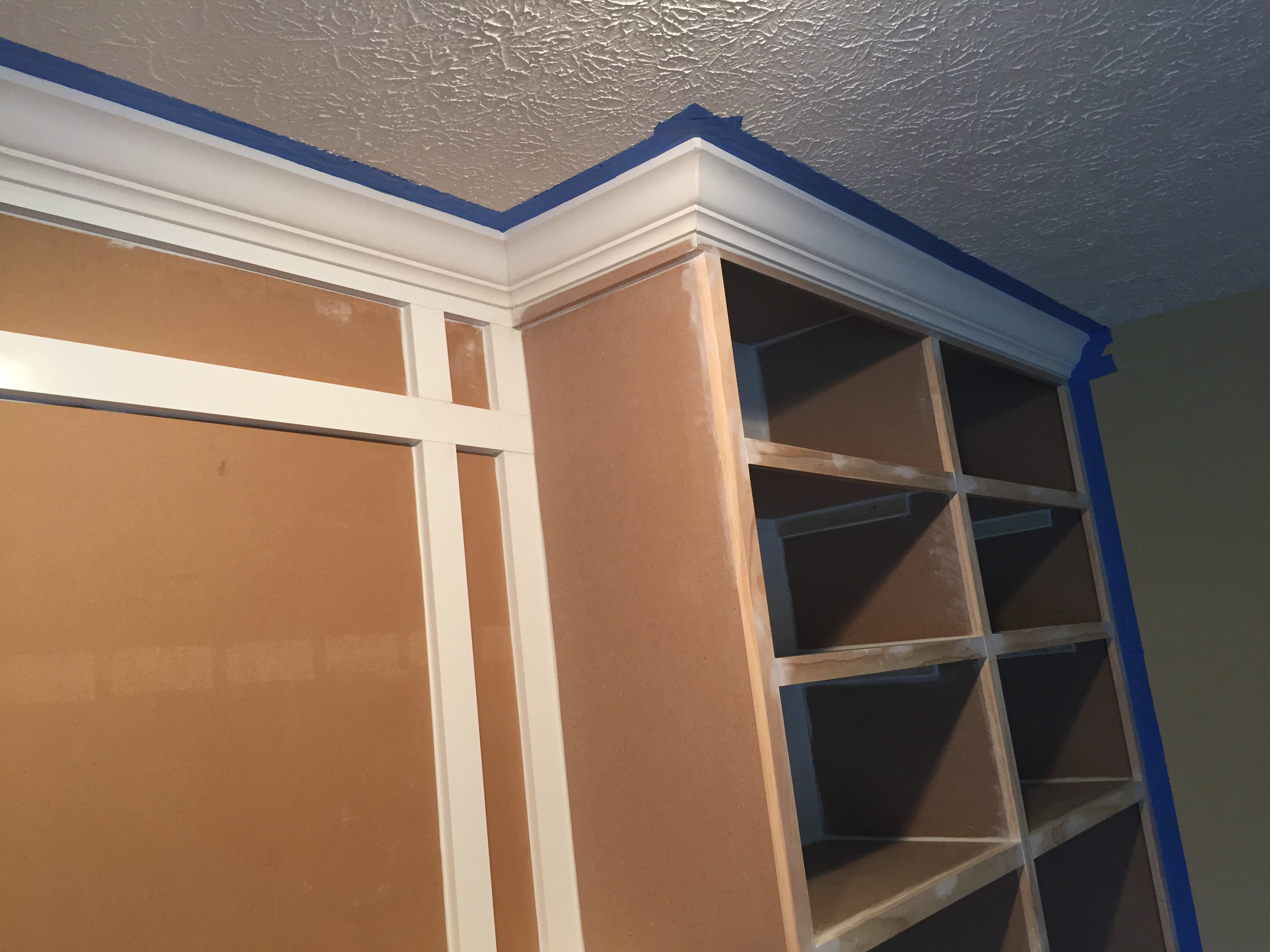 Same with the base molding. Choose what you want. I went with a tall, thick base molding.
Then, to finish everything off, I added 1×2 pieces to the front of all the bookcase pieces to make it look like a real cabinet.
Caulk & Paint
As I mentioned in my blog post about updating my kitchen for about $500, you need to caulk EVERYTHING. Caulk every crevice and every seam. Every spot where wood meets wood or wall or trim or whatever, you need a bead of caulk. It takes forever. And you will hate this step.
I chose Behr's premium Primer and Paint in One, because that's what they sell at Home Depot, and I wanted a good quality paint and to skip the step of having to prime the wood and then paint. I just wanted to do it all in one. I still needed 2 or 3 coats anyways. Again, you'll hate this step. It takes a long time. Long, long, long time.
Add Your Hardware (Cabinet Knobs and Pulls)
I went to Home Depot and bought what I liked. Measure the holes. Drill the holes. Install.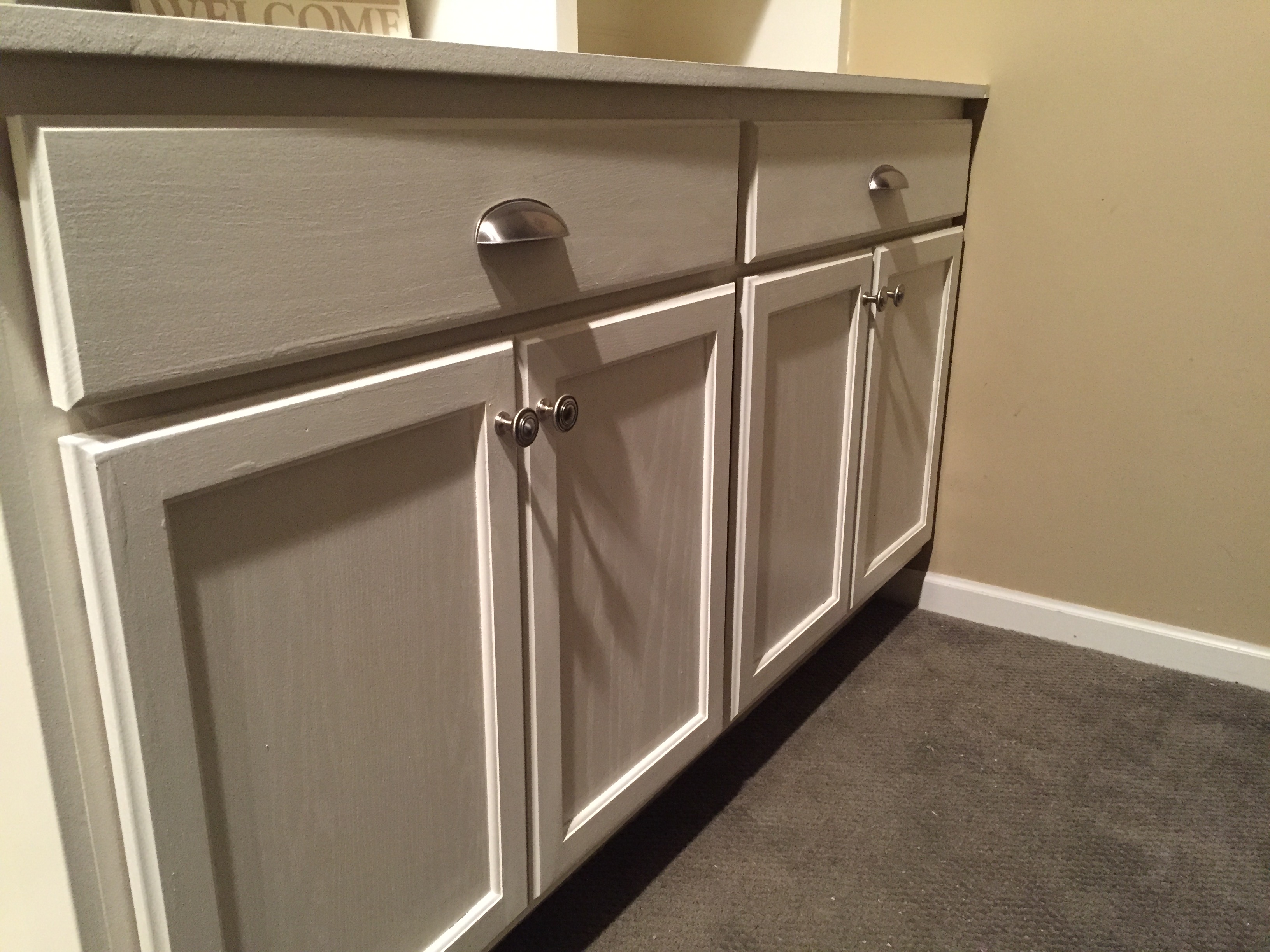 Decorate Your Shelves
For me, my total cost up to this point was a little under $1,400. My cabinets were huge, so yours may cost less. But I used the cheapest material I could and made sure I didn't need to waste any pieces, so who knows, yours might cost more. It depends…
But where the cost can start adding up, is after you're all done. Because you need to decorate these bad boys!
My wife ran to Home Goods, Marshalls, and TJ Maxx. She bought EVERYTHING she thought might look good on the shelves, and we knew if there was something we didn't like or if we had too much, we could just return it the next day.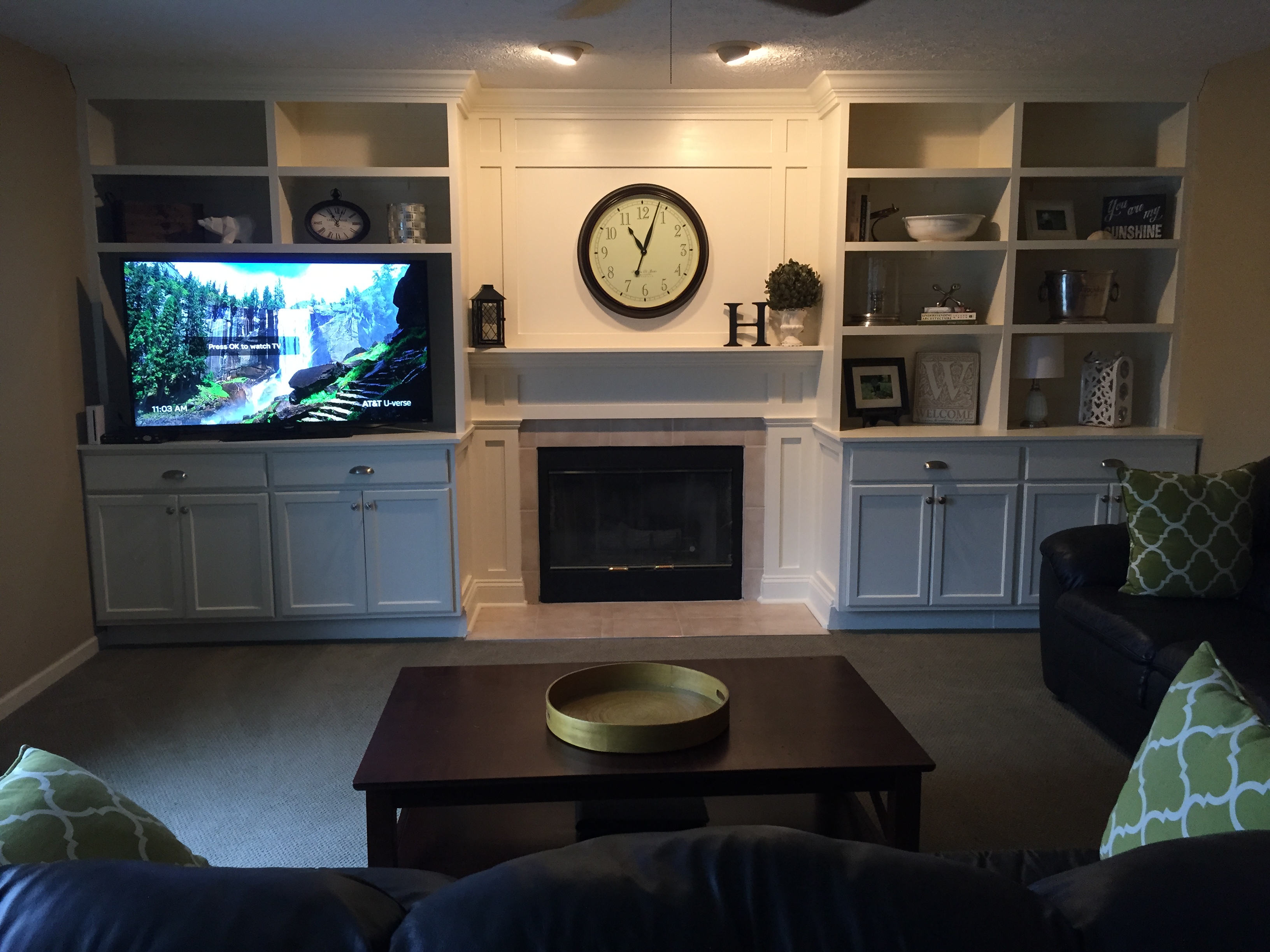 I think she spent about $300 on decor. And I spent about $600 on a new 55-inch TV. Ouch. But it was perfect. And it was FINALLY done. Phew!
More Encouragement
You can do this. If you want to. You just need to be a little handy. And you need to have the confidence. You also need the support of your family, because it's going to mess up that space for week or so, until you're done. But again, you can do this. And I promise you, if you start and have any questions, I would be more than happy to help give you advice or whatever. I know I probably don't know you. But email me and ask. I promise, I will help. Even if it's 10 years from now. I'll get back to you. Email me at dchamilton@kw.com.
–

Thanks for checking out this post. I'd love to hear from you if you have any comments or questions. Plus, use the share buttons below to spread the word and share to your social media accounts like Facebook and Pinterest.

Have a few minutes? Check out more of my blog posts and videos.
And if there's anything I can do to help you, whether you're thinking of buying or selling a home in Columbus and the surrounding areas, I'm always available and always happy to help.
– Dan Hamilton
Dan Hamilton is a top-producing full-time Realtor in the Columbus and Central Ohio area, well-known for his focus on client care and his use of video and technology in his real estate services. Dan works for Keller Williams Capital Partners Realty | Cbus Homes.