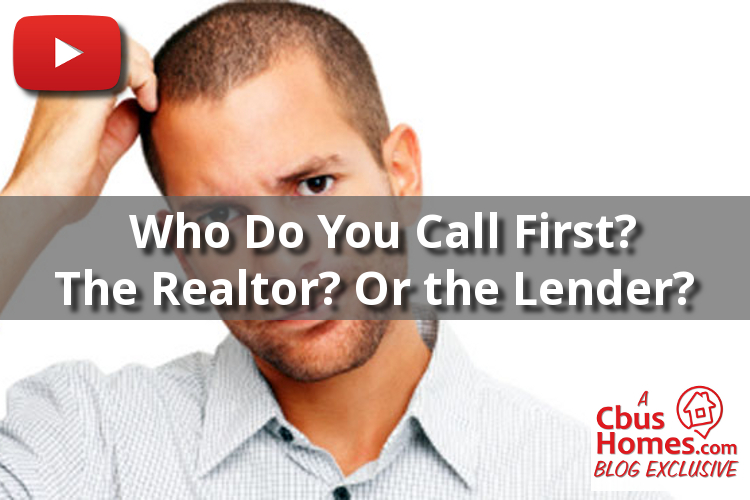 You've surely come across the impossible question of, "What came first? The chicken? Or the egg?" The answer is obvious… it's the egg. I mean, how could there be a chicken without an egg, right? ……… Oh wait. (Cue *cranial explosion)
Well, on a less mind-melting level, when it comes to real estate, a similar question a home buyer often asks is, "Who do I call first? A Realtor? Or a mortgage lender?"
Check out the video for a little more detailed answer, and please share it, like it, retweet it, and comment on it. I'd love to get a conversation started.
But if you'd prefer to read as opposed to watch, here's my take: If you're thinking of buying a home, and you have no idea who you're going to use as a mortgage lender (and by the way, saying, "Eh, I'll probably just talk to somebody at my bank," is not an answer you should tell yourself – seriously, don't) , then my suggestion would be to find a Realtor first. Already know a good Realtor you trust? Perfect! Talk to them, and they'll get you in touch with a mortgage lender they have had success with in the past and trust themselves. Don't know a lender or a Realtor? Find a Realtor by asking around. Ask friends. Ask family. Ask Facebook. Ask Twitter. Ask the guy in the produce department at Whole Foods. Just find a good referral for a Realtor that someone you trust has used and enjoyed working with. And then again, let that Realtor put you in touch with a lender they've used in the past and have had success with and trust.
So really, the only time I'd recommend calling a lender before a Realtor is if you already know a lender that you trust. Maybe you've worked with them in the past. Maybe they're a friend? Maybe they're your cousin. You know you can rely on them to take care of you. Then, you can call them.
Thanks for checking out this post. I'd love to hear from you if you have any comments or questions. Plus, use the share buttons below to spread the word and share to your social media accounts like Facebook and Pinterest.

Have a few minutes? Check out more of my blog posts and videos.
And if there's anything I can do to help you, whether you're thinking of buying or selling a home in Columbus and the surrounding areas, I'm always available and always happy to help.
– Dan Hamilton
Dan Hamilton is a top-producing full-time Realtor in the Columbus and Central Ohio area, well-known for his focus on client care and his use of video and technology in his real estate services. Dan works for Keller Williams Capital Partners Realty | Cbus Homes.